Overview

Welcome to the Matters.Cloud Getting Started Guide.
This guide is designed to help new users of Matters.Cloud to configure their account in order to benefit from the solution quickly.
We suggest having your Matters.Cloud account open so that you can configure your settings and add new data while you work through the guide.
Create Your First Client

We recommend starting by creating your first client, as part of entering the client record you will likely notice that the system defaults to use a Party Type of Organization, this works well for firms that work predominantly with organizations, but if you largely deal with Individuals you can update this via Setup > Settings.
Note: It might be a good idea to also set the following values whilst you are there:
- Default country
- Default currency
Once you have created the client you can access it via the following locations:
- Clients > All clients
- Clients > My clients
It might be worth also adding an address for the client at this time, you can do this via the 'Address' tab on the client record.
Create Your First Matter

Once you have created a client, we recommend creating your first matter, as part of entering this you will note that the system has a default matter type of 'General'. Matter types can be helpful when setting defaults to be used as part of the matter setup process and you may want to setup a number of specific types for the areas of law that you practice as you learn more about the system. You can do this via Setup > Matters > Matter types.
Once your Matter has been created successfully, you can access it via the Matters > All matters menu item. To make it easier to find in future I recommend clicking on the 'Add to favorites' button. This will allow you to access it directly from the Dashboard.
Create Your First Time Entry

Before entering your first Time Entry we recommend creating a new default rate for your user record. You can do this via the Setup > Time > Rates menu. Further information on rates is available via this link.
Once you have setup your default rate you can now start to record time on your Matter. You can do this via clicking on Time > Time entry, or by clicking on the Time Entry button on the Matter Profile card.
Explore Your First Matter
As you enter more transactions you will see that the Balances section on the Summary tab will update automatically.
I recommend also trying out the following at this stage:
- Add a new Matter Party via the Parties tab. Matter Parties allow you to keep track of other contacts / organizations who are involved in the matter. Note you may need to configure some party types eg 'Other side solicitor' via Setup > Matters > Party types.
- Try adding a new specific rate for the Matter via the Rates tab. Then record another time entry and see how it applies the appropriate rate.
- If you need to track Trust Account balances you can do this via the Trust tab. (note in UK english this displays as Client Account as per my diagram above). This will also update the corresponding balance on the Summary tab. You will need to configure a bank account via Setup > Trust > Bank accounts to use this feature.
- Try adding a reminder Task (eg a Court Date or a Reminder to Call via the Tasks tab.
Create Your First Invoice
To get started with invoicing you first need to configure a Bank Account via Setup > Invoices > Bank accounts, this will be used on the invoice as part of the remittance details.
You will then be in a position to start raising your first invoice, I recommend doing this using the button on the Matter profile card:
This will open the New Invoice form:
Note that the Fees and Expenses amounts will be automatically populated, I recommend clicking on Print Details and then clicking Submit and Open.
You will then see the Visual invoice editor screen: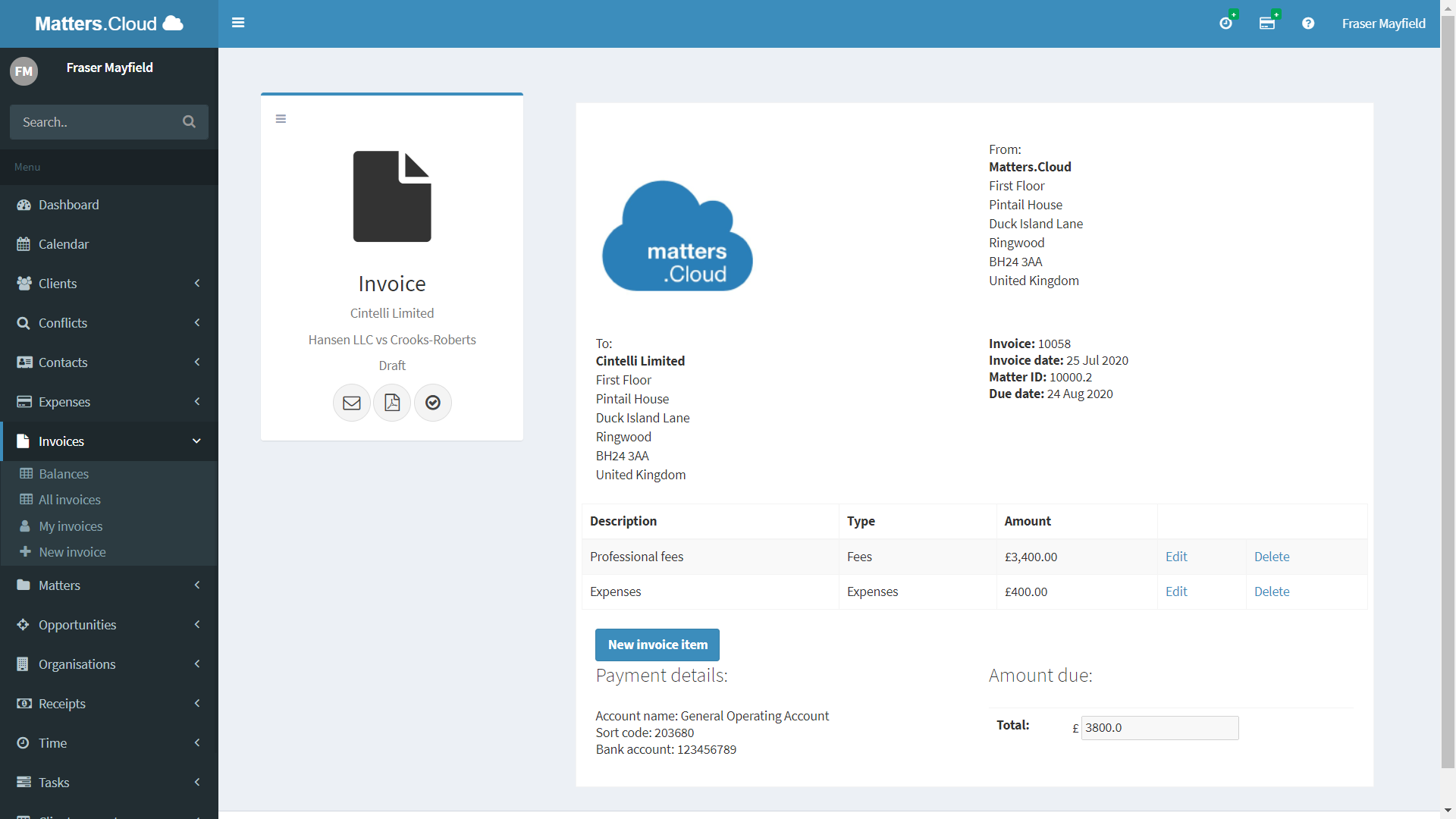 We also recommend also trying out the following at this stage:
- Edit an existing line item by changing the value
- Add a new line item (eg A fixed fee) by clicking the New invoice item button
- Output the invoice to PDF by clicking the PDF icon on the Invoice profile card
Setup Your Document Repository

We support using either Dropbox or Google Drive for storing your Matter related documents. Essentially Matters.Cloud will automatically create a folder for each new Matter or Opportunity created on your nominated account. You can then use native applications such as Microsoft Word or Google Workspace to create and save documents.
The following links provide a guide to setting up the integrations:
Setup Your Accounting Integration

Matters.Cloud can either run standalone or in conjunction with your choice of cloud based accounting platform.
The following links provide a guide to setting up the integrations:
Summary

The above guide will have shown you the basics of how to create clients, create matters, record time and expenses, store documents, create tasks, raise an invoice and setup integrations.